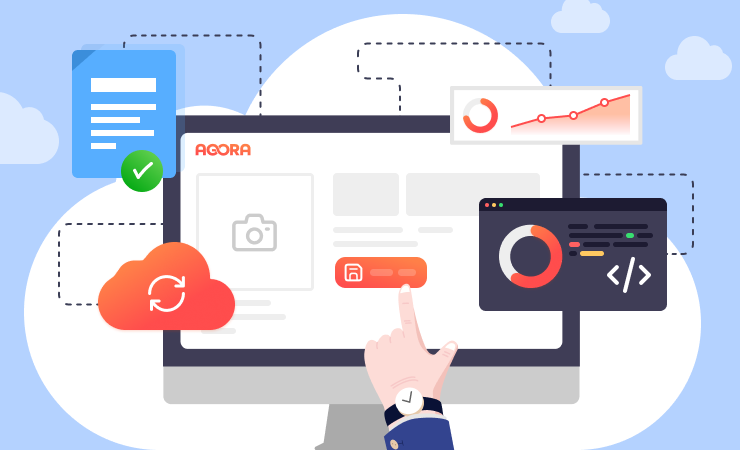 December 21, 2021
CMS for Marketplace: Everything You Need to Know Before You Start
In 2017, 97% of online retail customers made purchases from marketplaces. And the world's three largest marketplaces AliExpress, Amazon, and eBay accounted for half of the global online sales.
Expectedly, these solutions attract increasing attention of retailers and wholesalers. Companies often consider developing their own marketplace investigating the available platforms.
Let's discuss what a marketplace is, what they are like, and how to choose a CMS for the marketplace, which will be upgraded based on the experience of existing ones to provide innovative functionality and satisfy both sellers and buyers.
This article does not deal with the issues related to the return on investment of these projects, their economy, or marketing promotion.
Content:
➩ Marketplace for low-value purchases
➩ Summary
What is the Marketplace simple words?
A marketplace is an electronic platform where many sellers display their products in a common showcase. The renowned marketplaces, like Amazon, AliExpress, eBay, and Ozon, abide by this principle.
A classic marketplace (e-commerce marketplace) is a platform where third-party sellers advertise their goods. Buyers come to a marketplace because it offers the widest range of products from various sellers. The buyer places an order, and the vendor confirms the goods' availability within his marketplace account. And then the buyer receives information about the shipment and waits for the delivery of the order.
An E-commerce marketplace is a platform where transactions are conducted within a site, ensuring their integrity and transparency. There are two types of marketplaces: b2b and b2c. A combined model also exists, but they are usually separated. The reason is that in b2c, prices are the same for all customers, while in b2b, individual prices, discounts, and even assortments are offered to buyers.
B2C Marketplace: particularities
The advantage of the b2c-marketplace is the ability to aggregate not only goods but also services, coupons, promo codes, and other offers to retail customers. However, it has a rather long return on investment: large investments in brand development are needed to promote the marketplace.
A B2C marketplace generates money from commissions. When sellers and buyers come not from paid traffic or contextual advertising, but organically, the service becomes profitable.
The biggest b2c marketplace problem is fast product catalog completion when suppliers have only price lists. For large wholesaler managers, purchasing products using price lists is not difficult: they often know their products well and order by item. But retailers need good content, which means a catalog with detailed descriptions and high-quality product images.
For marketplaces selling appliances, electronics, and automotive products, the system quickly creates a catalog through Product Matching. A universal, sample product card is created for each item. It has detailed specifications, descriptions, pictures. This card is linked to the item from the price list by several key parameters.
Despite the simplicity of loading items with Product Matching for sellers, it is difficult to implement it technically. Moreover, the range of goods is updated quite often, and new products appear every year, so new sample cards should be created for them. Even well-developed Product Matching will work for a maximum of 80 percent. Therefore, developing a b2c-marketplace is a complex and expensive solution.
What is a B2B Marketplace?
A B2B marketplace has the same logic and functions as the b2c model. What is B2B Marketplace's peculiarity? In the B2B model, legal entities buy from legal entities. A transaction on such a platform can also be conducted within the marketplace, but such solutions appear rarely. The reason is that all purchasers have different terms of cooperation with the seller, and it's rather difficult to implement these principles within a single platform.
Projects of that kind are among AgoraB2B's cases, but they are industry-specific and do not cover all product groups. The only type of goods can be sold through such a marketplace. For example, it can be only tires, only bearings, or only agricultural products.
It is not difficult to implement solutions with special terms and discounts to different customers for a single industry. The problems occur where one tries to implement a single solution for different industries. Each industry will have its own product specifications (and, accordingly, it will be difficult to create a product card), assortment ranking, pricing, terms of order placement, and shipment. That is why the attempt to create a unified scheme of b2b-marketplace for several industries failed each time at the start-up phase. There are no successful cases of such solutions yet.
B2B marketplace earns through charging fees, promoting items to the top, or selling some special placement.
Classified
A specific type of CMS marketplace is classified. It is a service for placing advertisements. The seller here pays to have his advertisement seen by as many buyers as possible. They also earn by advertising.
Classifieds are the simplest projects in terms of development, but they have a very long payback period. Since it is difficult to promote them, they usually work in a single niche — cars, real estate, etc. As they reach the payback period, classifieds expand to other niches as well.
Online bidding platform: the difference
Another type of marketplace is a platform for electronic bidding. Large companies create them to place a query for the purchase of goods or services. Such platforms typically earn revenue by charging a fee from suppliers for the opportunity to participate in bidding.
Services to quickly find contractors for household and business tasks, like YouDo or WorkZilla, also work on the same model. Actually, they are classic marketplaces with a model of requests for specific work.
Marketplace for low-value purchases
One of the current trends is using this model for low-value purchases. The marketplace allows large buyers to quickly find the optimal supplier for small orders.
Low-value purchases of certain items are not very often. Whenever managers have to spend a lot of time looking for the best supplier. The solution to this problem is procurement in the marketplace, where hundreds of vendors sell various goods. All one needs to do here is to choose a supplier with suitable prices and mark the terms of the contract in the system.
AGORA's marketplace module allows procurers to automatically control the implementation of individual contract terms and conditions. For example, in case the acceptable price is exceeded, the system can inform the client company about the necessity to change supplier and help to quickly find alternative suggestions.
CMS for the marketplace: things to consider
The platform for the marketplace site may differ. Depending on the selected CMS for the marketplace, it can be developed at an affordable price with a simple engine and minimum features, or you can choose a complex, multi-level site platform to create a marketplace with wide personalization.
In the first case, a CMS engine with a universal Multi-Vendor module is used to develop marketplaces to work with many sellers. But the universality of the marketplace requires considerable detailed development and debugging thereafter. Thus, the marketplace owner is involved in the complicated process of releasing software.
The skills of developers with a low price often remain poor. They undervalue the complexity of such a project, forget to thoroughly work out technical requirements, and then develop it for a long time. And the customer loses precious time, and therefore money.
Disadvantages of cheap solutions:
unskilled developers;
unpredictable deadlines;
unpredictable quality of the product.
However, it is not the same thing to finish developing the product and to launch it. The project looks like it will work, but without constant support, integration of accounting systems and prices, the marketplace platform will not work stably. The reason is that inexperienced developers forget about designing system architecture, parallel data processing, and do not use Product Matching requiring specific skills. In the first 1-3 months there may not be any problems, but as soon as the amount of data increases, the system will get slower. It will be much harder and more expensive to fix the already working product instead of first considering the load.
Another alternative is an elaborated set of solutions for marketplaces offered by large corporations like Oracle or SAP. Although these platforms have a wide range of functions and personalization of the assortment and prices for every purchaser, their cost is unreasonably high.
But there is also the third alternative: fast, cost-effective, and efficient. Agora's marketplace solution is in the mid-price segment and can be sold on a subscription basis or server, depending on the customer's needs.
Most often, clients purchase AGORA solutions on a subscription basis. In this way, the client can quickly get a ready configuration of the marketplace and launch the project. In other words, if you use any CMS for the marketplace to develop your own platform, 80% of the product must be created from scratch. At the same time, the AGORA solution allows you to simply choose the right configuration, quickly launch and test it.
This opportunity is highly relevant for startups to launch quickly the marketplace and test the business hypotheses of the project. They do not have the resources to invest in the development of a customized product or to pay for an expensive and multifunctional set of solutions from high-priced vendors.
That's why the AGORA product is the most cost-effective and rational solution for startups. Dozens of clients use AGORA products, with some features that are not available on a common CMS marketplace being already available at the start. AGORA developers have implemented over 100 marketplaces, and this experience allowed to consider and fix most bugs in the marketplaces:
speed of data import;
ranking of goods in the showcase;
personalization of prices or balances;
individual pricing;
personalized assortment and units of measurement;
integration with external accounting systems;
various search engines;
tools for calculating the shipping costs;
virtual wallets and loyalty programs;
order tracking, payments, and more.
AGORA could tune all these features up by cooperating with many contractors from various industries, with numerous price lists and products.
AGORA offers wide customization, a configurable interface, and the ability to improve it when the customer needs a unique corporate design to large companies. AGORA also offers onboarding, which means training managers to use the platform, as well as cooperation with suppliers to register them on the platform. This allows to quickly implement of AGORA solutions as VTB Business Connect, Activism.ru, Za Rulem, Michelin, and other companies have already done.
Summary
Nowadays, marketplaces are one of the most popular models of electronic commerce. The B2B market is growing, opening up space for niche, and industry-specific projects where it is easiest to launch a marketplace.
Time is one of the most important factors in this market. Quick project implementation and testing business ideas with small investments is a great opportunity for a startup. But creating a marketplace from scratch, even when it is a solution with limited functionality, involves the client in the long-term development of a CMS marketplace.
Because of the lack of experience of developers undertaking the implementation of customized solutions, the deadline and the quality of such a solution are unpredictable. Therefore, it is better to choose a ready-made solution, with the ability of customization, for a quick start.
The benefits of AGORA out-of-the-box solutions to create marketplaces:
affordable cost and the ability of subscription;
fast implementation and the ability to test for free;
wide configuration and personalization options;
support and onboarding with training staff to use the platform;
tested solution, considering the basic mistakes of existing marketplaces;
experienced development team and technical support.
AGORA products guarantee a quick start in the e-commerce market.