June 28 , 2023
Software development for various business niches
According to Statista, the revenue in the global software market is expected to grow by US$650 billion in 2023. There are several drivers of the market: digitalization, increasing demand for automation of business processes, and surge in data volume. Currently, the global digitalization strategy is aimed at expanding and improving IT solutions and ensuring cybersecurity of information systems.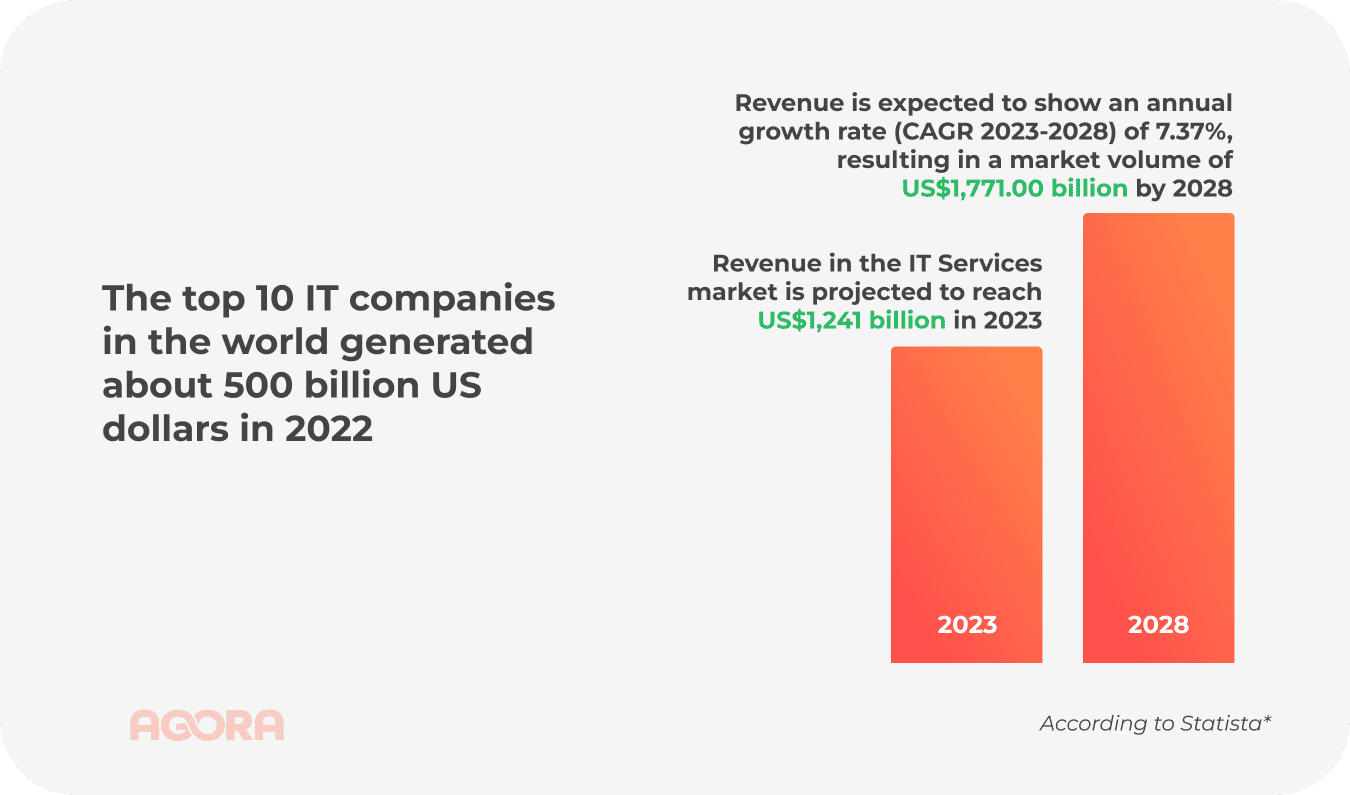 Article content:
➩What is the most popular technology stack in 2023?
➩Cloud solutions are our future
➩Companies' expectations from development
➩B2C and B2B industry solutions
What is the most popular technology stack in 2023?
Nowadays no company can operate without corporate software. Any business, from startup to enterprise needs instruments to manage its processes, keep employees efficient, and track revenue.
In 2023, B2B and B2C businesses are challenged to find new ways to improve operational efficiency while accelerating digital transformation. These goals can be achieved through:
regular optimization of business processes and services;
flexible and rapid scalability;
innovation (e.g., sales automation using artificial intelligence, neural networks).
There are a lot of solutions and software offered in the market and their growth and development will continue. Among this variety of options an entrepreneur might face a question: What tech stack for business software development should you pay attention to to have a competitive advantage in the market in any industry? According to a Gartner study, experts highlight several important aspects.
The use of JavaScript and JAMstack in frontend development. And in the backend - Python and the most popular framework Django. Python is one of the most secure and flexible stacks, it integrates with other programming languages and is compatible with artificial intelligence. AGORA started using Python and Django long before it became a market trend to develop e-procurement and e-commerce platforms on an industrial scale. This stack complies with security standards and can be used to develop a solution for any business need.
Headless-architecture. In brief, this structure separates interface components from server components and allows you to create individual API-systems for its multichannel nature. The main advantages of this approach: flexible frontend, wide possibilities for customization and personalization, omnichannel and adaptability of settings. On the basis of AGORA platform with the use of headless CMS you can quickly launch a B2B / B2C trading platform, corporate sites for sales automation, sites for low-volume purchases, purchases via catalog, etc.
Availability of adaptive mobile version of B2B portals, marketplaces: vertical presentation of all content, scaling for different devices and browsers. The ability to buy or make a transaction via smartphone from anywhere in the world increases sales conversion rate, customer loyalty and expands the audience. According to SlickJump, the share of mobile traffic has reached 87% by early 2023. The mobile B2B and B2C application of the AGORA platform provides the same features as the fixed version 24/7, has an intuitive interface and is easy to customize.
Enhancing cyber security. Numerous attacks on the public sector and companies of various industries have once again proved the justification and necessity of building cyber defense on the scale of businesses and industries, especially in IT solutions for banks, and internationally too. Therefore, the market is expected to witness high growth in this direction in 2023. In the development of industry-specific solutions for e-commerce and procurement, cyber security will also play a key role. Therefore, it is important to prioritize a vendor that can provide secure and efficient domestic systems during development and implementation. AGORA offers just such solutions.
Use of advanced database parameters. For example, along with traditional databases (PostgreSQL, MySQL) use serverless databases.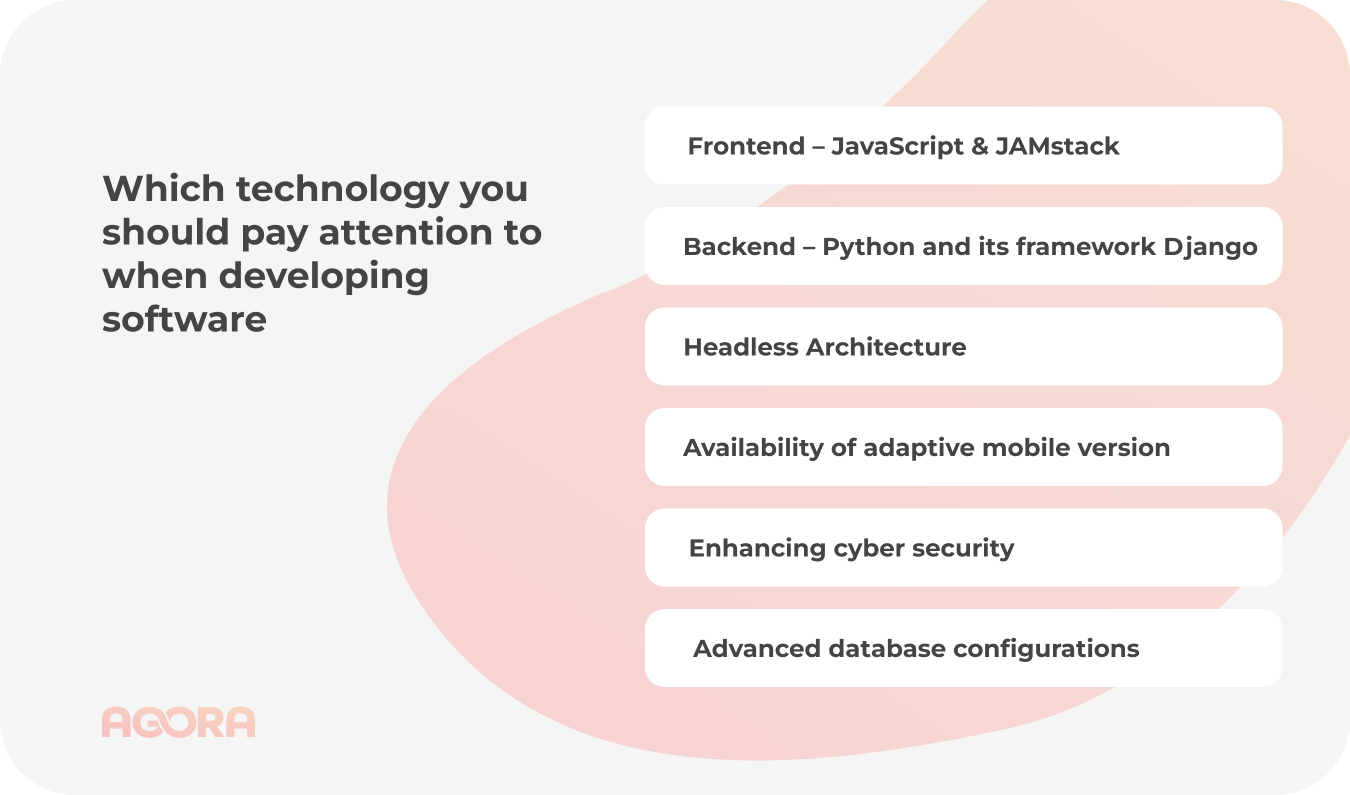 In 2023, companies no longer ask themselves whether or not to switch to proprietary software, their top priority is to go through this transition efficiently and without disrupting the existing workflow.
Cloud solutions are our future
According to Statista, in 2023 the global cloud services market is expected to show growth of 21.7 percent, which amounts to approximately 597 billion U.S. dollars. Nowadays cloud infrastructure supports data analytics, Machine Learning (ML) models, Artificial Intelligence (AI), Internet of Things (IoT), and Business Intelligence (BI). Today experts forecast 200 ZB of data to be stored in the cloud by 2025.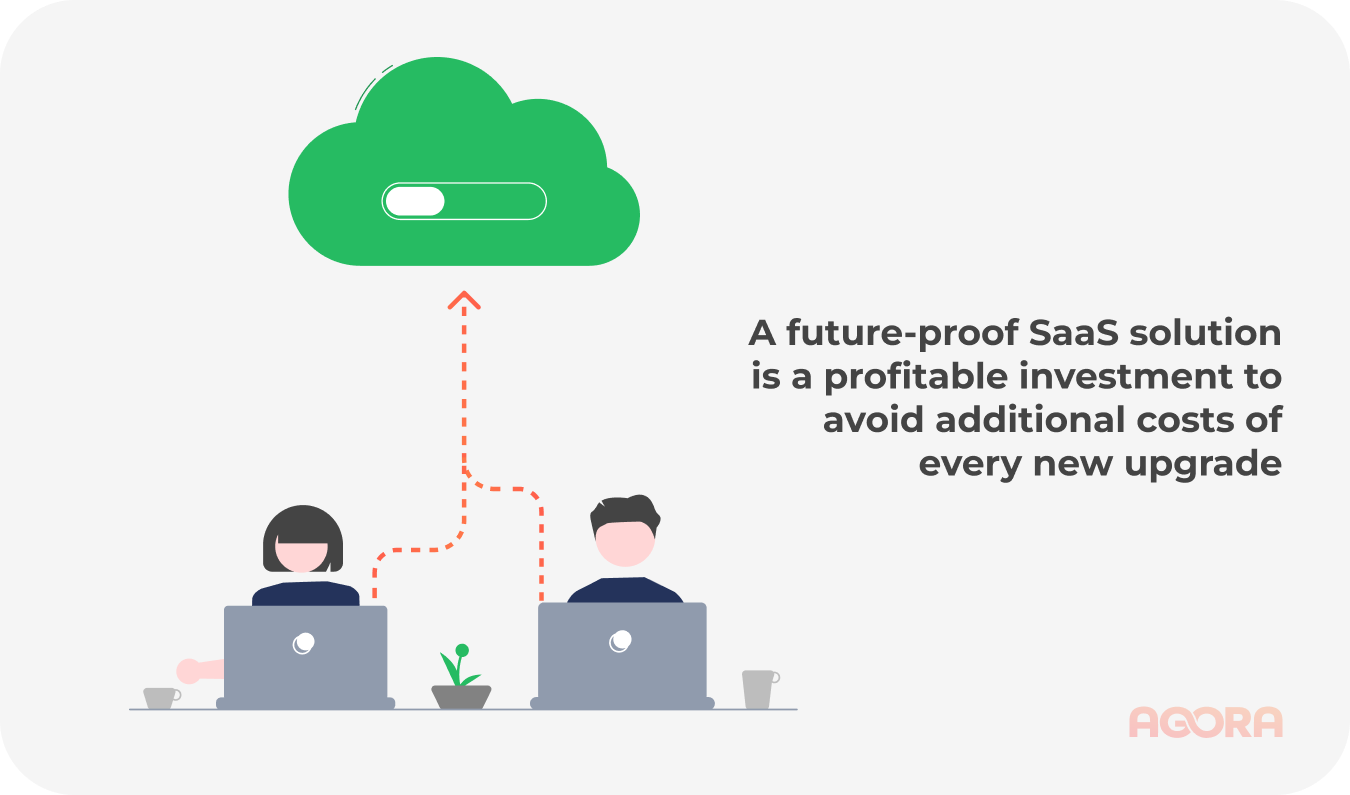 The advantages of the SaaS model for businesses are its relatively low cost, quick implementation, high performance and adaptability, and the ability to give access to all employees in any location.
While it can take quite some time for companies to migrate from on-premises to cloud-based versions, it is a worthwhile investment to provide flexibility and avoid additional costs on each upgrade, especially for the B2B segment. IDC analysts note that companies that don't utilize such industry-specific wholesale solutions may incur losses and lose their competitive advantage.
AGORA accelerates setup through a modular approach, reduces costs on implementation, facilitates integration and scales quickly. The platform-based solution architecture allows customizing an enterprise solution for different business areas: retail, procurement, industry and banking processes.
Companies' expectations from development
Before 2020, only large and medium-sized companies opted for customized development. However, the Covid crisis stimulated interest in software development and investment in this area, regardless of the size of the company, and the need for digital transformation will continue in the coming years.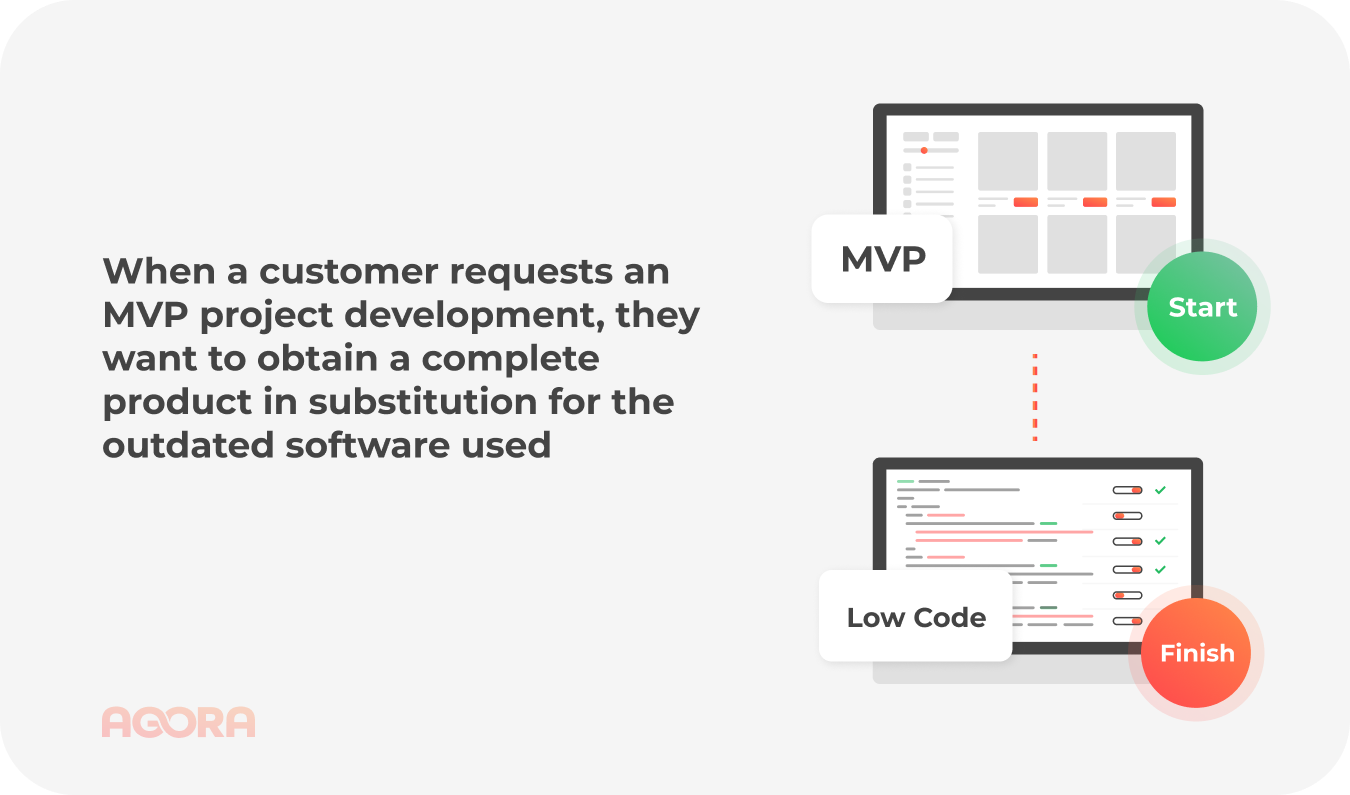 According to experts, if a client requests the development of an MVP, as a result he wants to obtain a reliable and complete solution with all the necessary basic functions that makes the transition fast with minimal cost and replaces the software that no longer meets the client's business model. AGORA is a powerful e-commerce solution based on our own B2C and B2B platform. This solution is reliable for the e-commerce portals development, because it is repeatedly tested in terms of API integration. For example, with the out-of-the-box solution your own marketplace website will be launched quickly (in 2-4 weeks), for you to test business hypotheses effectively. It is introduced into real market conditions immediately after the launch and is easily scaled. If necessary, you might request to add other ready-made business modules or an integration via API.
It is also important for companies to have an opportunity to request software customization or additional technical support and meet requirements of any niche and business process, whether it is the automation of medical institutions, the digitalization of healthcare, software development for enterprises or for the energy sector. Not any solution can offer such opportunities: often professionals involved in software development for industry do not have experience in e-commerce. AGORA offers a full range of services in any business area with a focus on B2B.
B2C and B2B industry solutions
Among the main advantages of B2C segment, we can mention the long-term relationship with customers, the higher average ticket, better chances of upselling, scalability and greater revenue predictability.
Regarding the disadvantages, the main challenges are the need for great acquaintance with the buying company, having to deal with different decision makers, more complex sales process, longer sales cycles and more demanding customers.
On the other hand, the main advantages of B2C are simpler sales process, greater frequency of purchases, the presence of the emotional factor and a broader market, depending on the niche.
On the other hand, some of the disadvantages of B2C are the short-term relationship (and, consequently, the ease that the customer has to opt for another company), lower average ticket and reduced budget predictability.
What is SaaS for B2C and B2B? SaaS is the acronym for Software as a Service. This way IT companies provide cloud software as a service under subscription to other companies. Thus, you can request your own marketplace to be created in accordance with your business needs and manage your project without a team of in-house developers, because AGORA undertakes all the technical aspects and offers its infrastructure to make your project our success story.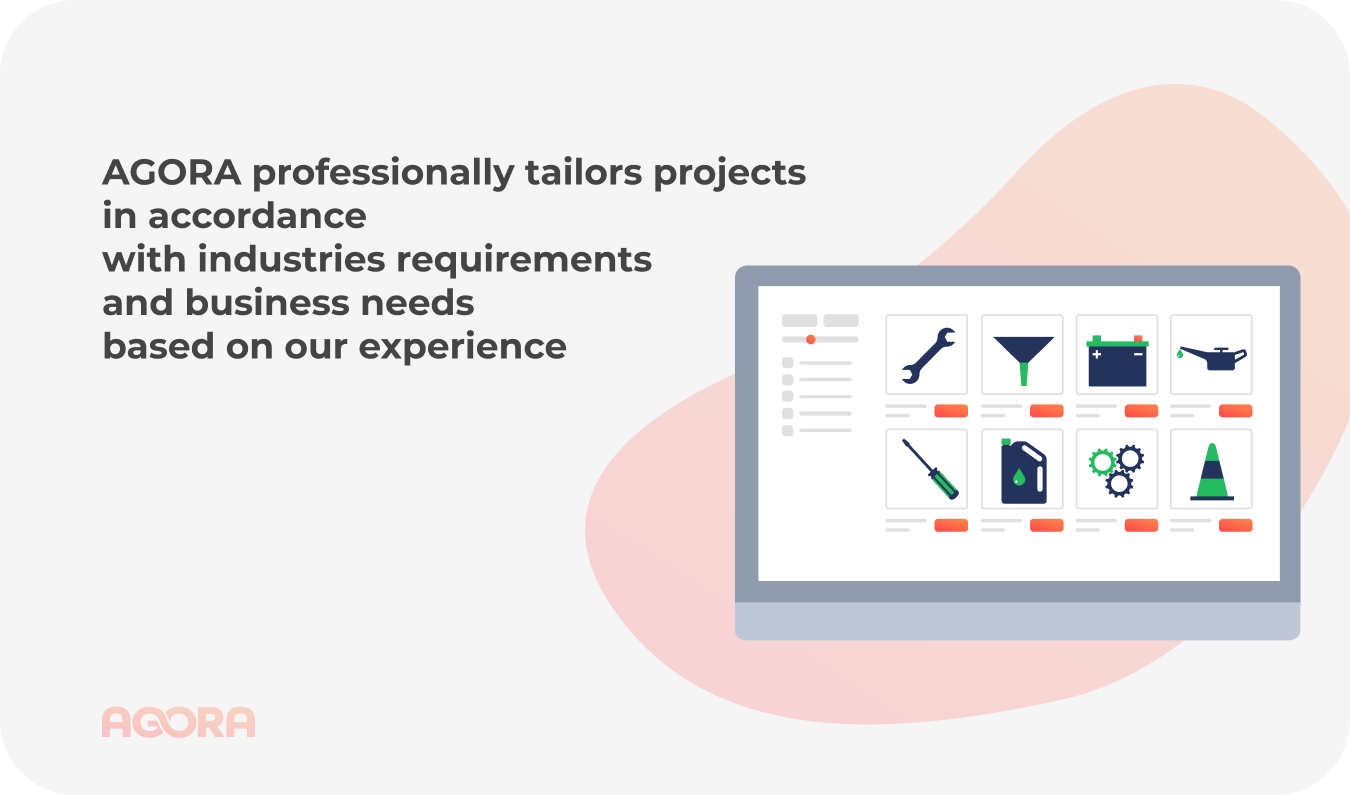 To help optimize your B2B and B2C business, you can rely on AGORA's solution to improve your team's productivity, automate the workflow and increase visibility for sales teams.
The global IT market started to develop earlier and faster. Now the market offers advanced cloud technologies, experiencing a development leap now. If you would like to optimize processes, reduce your corporate costs, increase sales and gain additional competitive advantages for your company, please leave a request or contact our team.