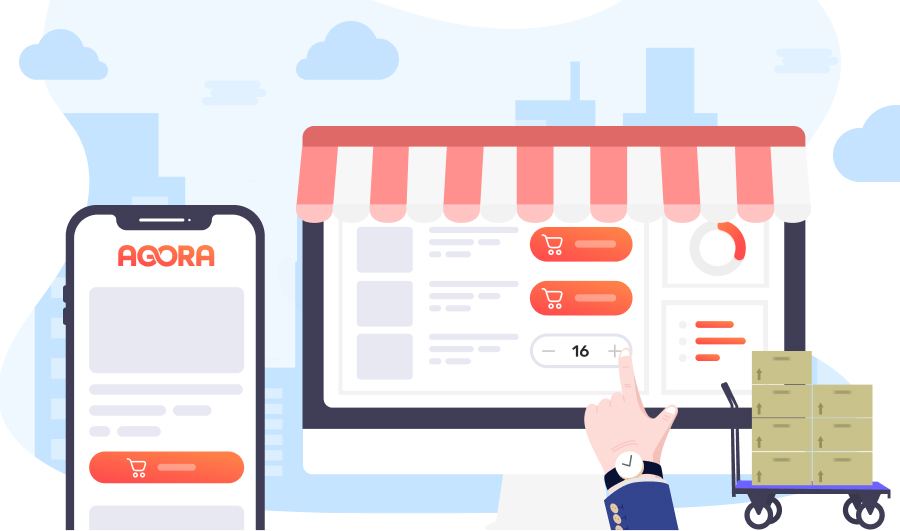 11 February 2022
How to create a wholesale website
The share of online sales within the b2b market is growing. According to Forrester's research, last year over 56% of US corporations made purchases online. Likewise, in other countries, b2b e-commerce markets are also expanding.
On this background, b2b companies need to create a wholesale website: wholesale buyers are switching to online purchases, and suppliers are launching online stores with goods for business. Let's talk about how to create a wholesale website.
There are two ways: wholesale website development from scratch, based on any CMS for managing websites, or wholesale website development based on a ready-made b2b platform.
Wholesale Website Development
At first glance, it looks like developing individual solutions is an excellent option. The developer will consider all the client's requirements, choose the best engine for the site, create a unique corporate design and everything will run like clockwork. However, this solution has a series of drawbacks:
Time. The full involvement of the company's top management (including the director) in the long process is necessary to create a wholesale website from scratch. It will take several months or even years. And you also have to add the time to implement, configure and debug the system.
Experience. The company creating a wholesale website does not always have the required qualifications and experience. It is not enough to have one or two relevant projects in the portfolio to consider all the issues and specifics of b2b-sales platforms. Usually, the experienced b2b developers work for large IT companies, so it is difficult to involve them in such a project. And it is especially difficult for a trading company to organize and manage such a team.
Quality. Because of the previous factor, the result of developing such a wholesale website can be unpredictable. The completion of the project from the developer's point of view is delivering it to the client. But from the customer's point of view, that is the implementation and the launch. At this stage, the customer is most often left face to face with an unexpected problem like developing a complex pricing system considering sales channels, discounts, limits, etc.
Scalability. Each wholesale website development from scratch is a separate customized project. Such solutions are hardly scalable. Therefore, when the company grows and the request for new functions appears, it is necessary to create a new wholesale website.
Onboarding and support. Few companies creating a wholesale website offer staff training and further support of the system. Therefore, the customer should find out how to work with the system himself, thus, the time for implementation increases.
Cost. It is always expensive to create a customized wholesale website. And further expenditures on modifying the system to add missed by first developers features will be even higher.
The major cause of the problems is underestimating the complexity of the task, both on the customer's and the developer's side. It's widely believed that b2b and b2c wholesale websites differ little. However, the experience of AGORA developers, who have designed over 500 such projects, proves — this mistake is crucial.
The b2c online sales model suggests a lot of customers. They all make purchases under the same conditions and at the same prices. Transactions are small, there is not much paperwork, and the most important features are a good virtual storefront, a high-quality image, and a description of the product.
In b2b online sales, there are much fewer buyers, but the turnover is higher. The purchase terms are different for all clients. The next terms are personalized in b2b sales:
discounts;
assortment of goods;
accounting units of the products;
special offers and bonuses;
document interchange;
terms of the contract;
terms of payment;
terms of shipment and delivery.
The most important is the ability to view the supplier's stock balances in real-time, quickly reserve the items and manage the order status. While a high-quality catalog with attractive images and good product descriptions is also important in the b2b sales, many managers are well aware of their products and order them simply by the articles in the price lists. Customer support and document management in b2b require additional time, while a well-designed wholesale website allows automating these processes and generates the documents directly in the system. This eliminates unnecessary workloads for both supplier and buyer managers and saves their time for more important tasks.
How to Create Wholesale Website in a Week
It is possible to create a wholesale website B2B within one or two weeks when it is based on a ready-made platform with customizable configurations. AgoraB2B can provide this, and it will be a cost-efficient and workable solution with an opportunity to expand its functions, depending on the selected version.
The Agora B2B portal can be purchased either as a fully independent product running on a client's server or with a subscription service. The second option will be suitable for companies with a limited budget and willing to quickly implement such a solution in their industry. The testing period is free.
The AGORA wholesale website implies such features:
Fast. We can create a wholesale website in a term starting from 7 working days. And it will be a workable solution: the client won't face a system failure, for example, while simultaneously loading price lists from several suppliers.
Comfortable. Configuration of the wholesale website allows personalizing the terms of cooperation with different customers or users, automating document interchange and payment, integrating supplier accounting systems to display stock balances in real-time.
The company AGORA will provide onboarding — training for staff to work with the wholesale website, help in connecting suppliers and buyers, after-sales service, and support. The Agora solutions are:
Rational. AGORA has finished over 500 projects of wholesale website development. Therefore, the wholesale website considers the common mistakes in the development of such solutions and provides all the essential features.
Scalable. Initially, AGORA modules may not always fit the customer's requirements perfectly. But it is much easier to improve and scale up a solution verified on hundreds of installations.
Affordable. Compared with customized solutions involving creating a wholesale website from scratch, AGORA wholesale website is a cost-effective way to get started quickly at an affordable price.
Summary
You can create a wholesale website in two ways: through expensive and long-term custom development, or fast customizing the optimal configuration of the wholesale website from experienced developers at an affordable price. Both solutions have their advantages, but the Agora wholesale website has already fixed the disadvantages of custom projects. So entering the online wholesale market with AgoraB2B is a smart and profitable decision.