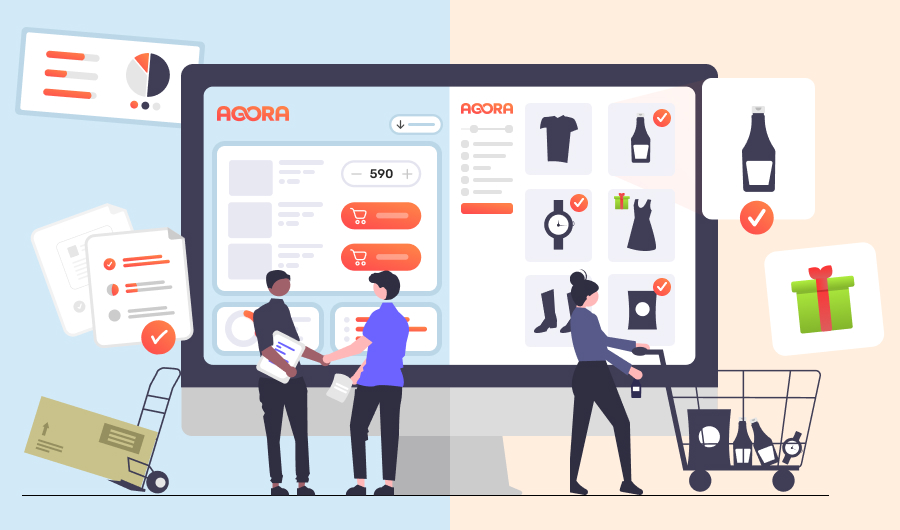 25 January 2022
The Difference Between B2B and B2C E-Commerce: 10 Non-Obvious Distinctions
At first glance, the difference between b2b and b2c seems insignificant: externally, online stores look similar in either case. However, the difference in business processes and functionality is significant and systemic in nature among them. B2B commerce differs from B2C in the essence of the customer, the company's audience, and the company's staff.
Article content:
➩ 1. What does B2B and B2C mean
➩ 2. What is the difference between b2b and b2c
➩ 2.4. Working with the catalog and content management
➩ 2.5. Transaction volumes and payments
➩ 2.6. Order processing and protest procedures
➩ 2.8. Patterns of behavior and customer classification
What does B2B and B2C mean?
B2B or business to business — is a business model whereby manufacturers and importers sell to distributors, dealers buy from distributors, and eventually, all wholesalers sell to online stores and retailers. This resale process is driven by the large territory, and such supply chains arising from a need for distributed logistics centers.
B2C or business to consumer (or customer) — is a business model whereby retail companies sell directly to the end consumer.
What is the difference between b2b and b2c
When comparing the incentive for b2b and b2c customers, the difference between b2b and b2c is obvious. In b2b, a company deals with another business: wholesalers use purchased products to gain profit, for example, by reselling them further or offering installation, delivery, and maintenance services. In the case of b2c, the company deals with the end consumer, who buys the product directly for his own purposes.
In b2b, 80% of customers are usually regulars. In b2c, however, you have to pay each time to re-attract current customers. Unfortunately, the frequency of purchases in b2c is several times less than in B2B and that is also an important difference between b2b and b2c.
Different needs of target groups lead to differences between b2b and b2c e-commerce. Let's take a look at the differences between b2b and b2c and understand how this is reflected in solutions for the automation of business processes for wholesalers like agorab2b.com.
Difference between b2b and b2c № 1. Registration
In b2c, a customer is attracted by the products in the showcase. The customer studies the product variety, chooses something, and places an order. Registration is often made already when the order is being placed. It is also possible to buy without registration, just specifying the terms of delivery.
Online retailers often offer "one-click registration". That is instant registration with links to Google services or popular social networks like Facebook. This eliminates the issue of complicated registration, login forms, and password recovery systems. User email, name, and photo are added instantly, email is already verified and data sharing is highly secured. Everything is easy and fast. That is the main difference between b2b and b2c in registration.
In b2b, complicated settings are already required at the registration level. In most cases, managers deal with them. The scheme where the customer sees the product and places an order does not work in the case of wholesalers. Prices, discounts, terms of payment, shipment, paperwork, etc. should be personalized in this case.
A wholesale customer needs onboarding - 'landing' on a site in a specific place. For example, directly in a personal account, which has all the data for a quick start. However, many factors should be considered to create accounts for b2b customers quickly:
form of business incorporation - a legal entity or individual entrepreneur;
the country of incorporation - Canada, USA, other countries;
the taxation - for example, VAT payer or not, etc.;
the pricing scheme applied to purchases;
the special conditions imposed by the treaty and paperwork;
the рayment terms and conditions - in advance, payments plan, on delivery, etc;
the terms of shipment;
the modalities of cooperation - distributor, dealer, etc.
The start of work can be a lot easier and faster with a system allowing the quick configuration of a user's account based on these factors.
Difference between b2b and b2c № 2. Verification
In b2c, verification is often done via confirmation of the customer's mailbox. In the case of one-click registration and purchase without registration, verification is not required at all. Typically, the customer makes a payment, the product is delivered to the specified address and that's the end of the interaction.
The difference between b2b and b2c in verification is the next. In b2b platforms, verification should be provided in several forms in every instance:
self-registration of a customer;
adding an already existing client;
with manager confirmation, etc.
Processing of customer registration or verification in b2b is mandatory.
Difference between b2b and b2c № 3. Personalization
Personalization causes the most significant difference between b2b and b2c e-commerce. In b2c, goods, prices, terms, and conditions of purchase are the same for one and all. This is required by law to protect consumer rights in many countries. In addition, retailers do not expect personalization on first purchases. As a rule, special discounts are only used to motivate repeat purchasing. Shops use promotional discount codes or loyalty programs with cumulative discounts for this purpose.
In contrast to retail, wholesale requires a mass personalization of such terms and conditions, as prices and discounts, product range, amount of goods. Personalization is the main reason to work with the selected supplier from the wholesaler's standpoint.
Many system functions can be personalized:
Prices and discounts. Discounts are calculated individually for each customer according to a complex, non-linear equation involving many factors and variables. Sometimes dozens of these factors make the calculation of the discount a labor-intensive task. Сomplex discount calculation schemes are hard to carry out even with automated processes. Therefore, the simplicity and clarity of the discount module play an important role in automation systems. Simple discounts like discounts on the ordered amount or volume, discounts-gift on illiquid items should be displayed to the contractors to help them understand the concept and motivate using these offers.
Sales promotions and loyalty programs. Automating business processes can save up to 60% of managers' time to be spent on marketing tasks. These involve developing more complex discount offer mechanisms - additional discounts and special offers for customers coming through a particular advertising channel, referral discounts, bonus accounts, loyalty programs, etc. Although more often than not, these efforts are directed towards increasing sales. B2B marketing allows identifying and resolving any bottlenecks. For example, you can offer speed bonuses, motivate a customer to place an order if he has abandoned it in the cart, send notifications about new products or the arrival of awaited products.
Product range. A company operating in several markets or segments can vary the available range of products for different categories of customers.
Agora's B2B platform offers a wide range of options to customize the catalog assortment depending on the type of customer. A catalog is a set of items that can be grouped, moved, categorized, virtualized, hidden, or shown to different customers. Importantly, Agora's interface displays all of these settings in a clear way. A particular set of catalog components is marked with a special color, and several principles for product placement are available. Each product can also be displayed in a personalized way. For example, some customers only need a specific smartphone model, while others want to see all available modifications with all possible parameters ( display size, resolution, internal memory, etc). Individual designs can also be provided for article specifications.
Units of measurement and minimal batch. While in retail all products are sold by the piece, in wholesale some customers may order products by the tens or hundreds, while others may order in packages, boxes, or pallets. In this regard, there is a minimum batch size. For small wholesalers, it can be 1 package, and for large wholesalers, it can be 10. In b2b, different multiples of the order are also available, depending on the segment. For example, when a customer orders 5 boxes of products with a multiple of 10, the system automatically notifies him and adds 10 boxes to the cart. If there are only 3 in stock, no sale will take place. For frequently purchased items, a ready-made standard order list can be generated. The client should simply specify the quantity.
Currency. For customers from different countries, you can set up the display in different currencies, instantly converting them within the system, into rubles, dollars, or euros.
Stock balance. The residue display can also be personalized for the customer by integrating the platform with the accounting systems of different suppliers, warehouses, and branches. The residue display can also be personalized for the customer by integrating the platform with the accounting systems of different suppliers, warehouses, and branches. This also optimizes the work with reserves. The system can automatically increase the price for products reserved by customers.
Mechanisms of personalizing the terms of cooperation for wholesale customers are often complex and companies cannot find opportunities to automate them. Nevertheless, b2b platforms like agorab2b.com allow to consider all the nuances and to transfer maximally the personalization of cooperation with customers to the system.
Difference between b2b and b2c № 4. Working with the catalog and content management
The quality of the product image and description are essential for b2c, while for b2b it's not critical. Purchasing managers are familiar with the products they need, so they simply look for their name or article number. For quick ordering, the modifications - color, size, weight, etc. - are only important. But the professionality of the purchasers causes the low quality of content in b2b.
The images have a conventional, schematic view and are only needed to identify the position quickly. This hampers the development of complex mathematical algorithms identifying the product by image and suggesting an analog when the desired article is absent. Thus additional data from the supplier is required to process the substitution.
The client spends the most time in the catalog, so well-organized catalog settings are of primary importance for b2b. Intelligent search and product sorting are essential. According to Amazon, smart search in b2b yields up to 70% of the sales. Therefore, text-based search through the catalog should be adaptable to errors and different endings in the query and should index the product base quickly.
Sorting of products by novelty, popularity, date of adding, and category characteristics also contribute towards simplifying work with the catalog.
These features are also required in retail, but b2c online stores do not offer their customers such solutions. They revise the catalog manually, but it isn't so hard as it contains up to hundreds of articles.
The difference between b2b and b2c in working with the catalog is that b2b catalogs have tens or even hundreds of thousands of items, therefore, intelligent sorting and searching is crucial for wholesalers to place an order.
A convenient solution for b2b-platforms is a tabular display of the catalog or list. There is no need to add each item to the cart by piece, thus the manager will save both time and nerves. And if the buyer traditionally prefers to work with Excel tables, he will appreciate the option to upload the catalog as an xls file.
Difference between b2b and b2c № 5. Transaction volumes and payments
The volume of b2b-transactions is larger than in b2c. This and the specifics of the business organization influence the payment terms. Most often retailers require full payment in advance, while wholesalers allow deferred payment up to several months and payment in steps.
In addition to product reservations, payment balance and credit limit can also be additional means of monetization, positively or negatively affecting the pricing and discounts for a given customer - thus being personalization drivers as well. And this is the main difference between b2b and b2c in payment.
B2B platforms provide tools to simplify payment processing - such as a payment plan or quick preparation of financial reports. A common case is to pay for each order separately. It can be optimized with Agora's b2b solution. The financial module of the platform tracks credit limit, receivable, overdue payments for individual orders.
Difference between b2b and b2c № 6. Order and claims processing
The retail orders are usually small, so they are processed as received. The manager checks the availability of the item and processes it. Wishing to make a purchase "here and now" and to receive the order as soon as possible, the consumer finds a substitution for the absent product himself in another online store.
Since wholesale deals have a deferred nature, and orders can be split, the wholesalers are willing to wait for the necessary items to appear, agree to ship in batches, and accept suggestions for substitutions.
The only type of transaction is common in retail: order - confirmation - payment - delivery. Wholesale companies use several types of transactions: prepayment, post-payment, factoring, and letter of credit. All these kinds of transactions should be supported by the chosen b2b-platform as well. And that is the main difference between b2b and b2c e-commerce order processing.
The status of the order in b2b should be indicated for the client, who should also be able to see at any time all the relevant information on the order: its processing, shipment, movement between warehouses
Agorab2b.com uses a flexible principle to process orders. Order status movement can be localized in Agora, or it can be kept on the side of the company with its regular business processes. There is also the option to integrate agorab2b.com with ERP, 1C, or SAP and adjust Agora to the workflow in the accounting systems on the vendor's side.
B2B solutions should also be able to combine several orders of the same customer (or several customers to optimize logistics) and vice versa, to split them, allowing the shipment in parts.
Claims are processed in the same way. They are tied to a specific order and given a status, which the client can track independently, without involving a manager. This saves resources that are usually spent on claims tracking. It is expensive and is a weak point for many large companies.
Difference between b2b and b2c № 7. Processing documents
The online retail store assumes a minimum of documents - invoices and consignment notes. But b2b implies a full set of documents for each order. Contracts, reconciliation reports, invoices, and consignment notes can both be generated in the b2b-platform and can be downloaded from third-party accounting systems like 1C.
B2B platforms also allow cooperation with third-party price lists, which are better integrated via ERP for regular updates. It is a very important difference between b2b and b2c e-commerce document processing to promptly update all the data. In b2c it is sufficient to update prices and stock balance once a day, while in b2b these data can change drastically during the day.
Another type of document provided for wholesale customers via b2b platforms is marketing materials for sales like catalogs and booklets, flyers, special POS materials to place at the point of sale. These products can be downloaded as pdf-documents and sorted by brands, categories, and specific products.
Difference between b2b and b2c № 8. The pattern of behavior and customer classification
The customer behavior pattern in b2c is quite easy to learn by classifying customers into groups based on gender, age, and preferences. By contrast with retail, it is difficult and sometimes impossible to systematize wholesale customers. Their behavior is influenced by dozens of different factors with varying degrees of priority.
Also, it is difficult to classify the wholesaler customers' behavior patterns because one buyer can manage several accounts, or several purchasing managers can use the same corporate account. So that is the difference between b2b and b2c in the pattern of behavior.
That's why it is better to use tested solutions for b2b automation, tested by hundreds of companies. Such systems allow managing business processes more effectively.
Difference between b2b and b2c № 9. Administrating
In b2c, the normal admin panel offered by any CMS is sufficient to manage the online store. The number of customers here is relatively small, their behavior is predictable, orders are small, and personalization is not required. For the manager it is enough to make sure the product is in stock, to confirm the order, verify the payment, and arrange delivery.
Managing b2b solutions is done by many people, both at the vendor side and at the buyer side, where one client can work on behalf of several legal entities with different terms of cooperation for each. Therefore, solutions for b2b should provide a hierarchically complex system of permissions to access different sections of the platform.
The case of agorab2b.com for PJSC Pochta Bank is an example of such a solution. The bank has many branches, each of them has its employees, each employee has a budget, and all of them place orders. The system should control the budget and orders according to their authority. The order should be approved by a higher manager if the employee's authority is insufficient.
Managers managing the platform on the vendor side may perform the following functions:
registration confirmation and processing;
adding and verifying customers;
personalizing prices and terms of cooperation for each customer;
catalog configuration and product content enrichment;
work with the abandoned carts;
customer service - a personal manager to address any issues;
document processing, handling financial or marketing issues.
Therefore, the opportunity to provide separate rights and access is extremely important in b2b. At the same time, complete and detailed information about the company should be available within the chief executive's account. And here we can see the difference between b2b and b2c in administrating.
Difference between b2b and b2c № 10. Marketing
Marketing in b2c pays maximum attention to increasing sales and order value. In b2b, however, marketing efforts are aimed at increasing the volume of orders within a certain period.
The most important difference between b2b and b2c in marketing is that automation of business processes in b2b allows mobilizing resources for marketing purposes. Also, the marketing tools in b2b allow implementing non-standard solutions:
individual discounts for customers who are absent for a long time;
automatically scheduled calls to customers who changed their mind to place an order after adding items to the cart (work with "abandoned carts");
discounts to increase the amount of the order ( up to specified);
discounts-gifts when buying illiquid goods;
special offers by email newsletter to customers who haven't visited the site for a long time, have visited the site but haven't made any purchases, have bought for less than a certain amount, haven't clicked a certain product, or have clicked some products most frequently;
banners and personal promotional offers;
virtual product categories created for a specific customer.
Solving these tasks does not require additional employees, but these tools provide UpSale.
The summary
The major mistake companies make is expecting a b2c-platform to be the grounds for a similar, maximally simple solution in b2b. Wholesale and retail marketplaces, even while looking similar, have critical differences. There are differences between b2b and b2c in the arrangement of business processes.
The complexity of a b2b platform is primarily caused by non-linear, multifactor algorithms designed to serve customers. Such algorithms have many variables with different priorities and determine:
pricing and discounts;
promotions and bonuses;
terms of cooperation;
display of goods in the catalog;
access and permissions of managers.
Given this, as well as the complex pattern of b2b customers' behavior, the most comprehensive solution would be to launch a platform with smart and configurable functionality, tested by hundreds of wholesale customers both suppliers and purchasers. Agorab2b.com offers such a solution - a trading B2B portal.
The analog may be a custom b2b-solution, developed according to the individual client's request and considering his requirements. However, such a solution will have some disadvantages:
custom development will be complicated and therefore expensive;
developing individual solutions will take a lot of time;
without prior testing, the result of the implementation is unpredictable;
even with successful implementation, such a solution cannot be transferred to another industry or scaled;
realizing missed factors will come only after the launch.
The agorab2b.com solution will help to avoid these mistakes. Implementing Agora's B2B portal will take about 7 working days. During this time, the development can be tested free of charge in demo mode.
To learn more about the B2B portal and its advantages, submit a call-back request. Our manager will contact you to give detailed information and answer all the questions.